Parish Records - What are they?
Parish records are registers of baptisms, marriages, and burials made by the Church. These records can help you trace your family roots back through baptisms, marriages, and burials. Most parish registers go back to the 1600s, and some even go back to the 1500s.
In 1538 Thomas Cromwell the Vicar General to King Henry VIII declared that all marriages, christenings and burials should be recorded; normally these are kept at the Parish Church. In 1598 an Act was passed that meant these records should be copied and sent to the bishop. These copies are known as the Bishop's Transcripts.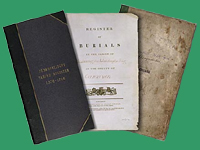 The Phillimore transcripts of parish records go back as far as 1538 for some. W.P. Phillimore was a genealogist who started the job of publishing transcripts of early parish records in the 1890's. These normally end in 1812 or 1837. For the range of years covered you will need to look at the details for the county you're researching. Most of the Phillimore transcripts are of marriages and the complete collection is available from S&N Genealogy.
Phillimore's Marriage Registers
This is a series of books published in the late 19th and early 20th centuries, and hold transcriptions of marriage registers. Learn more about W.P. Phillimore by clicking here or by following the link above.
Parish Records in your Research
Trace your family roots back through baptisms, marriages, and burials. Most parish records go back to the 1500s, so these are a valuable resource for your research.
Searching Parish Records
A baptism record would usually give the name of the child, their parents, and where their parents lived. You can use this information to trace their parents, as their marriage record is likely to be in the same place where they live. The marriage record would give you the parishes of both bride and groom, allowing you to trace their parents in the parish, and so on.
Information Provided on Parish Records
Baptism Records:
On baptism records, you may only find the name and date of baptism - the father's name was recorded, but it is unusual for the mother's name to be recorded, unless the child is illegitimate.


Marriage Records:
Marriage records contain the name of the bride and groom, the Parish where they were married and sometimes details of the brides parish. More details was added to the records in later years.

Burial Records:
On burial records, you should be able to find the name and father's name. The age was also noted in later records.
Viewing Parish Records
View a list of Parish Records avalable on CD on our website by clicking here.
You can also view the Parish Records online at TheGenealogist.